Movea app makes your iPhone 4 behave like an Air Mouse for $1.99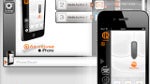 Movea is the company behind the Air Mouse, which lets you mimic mouse usage without actually putting down the device on a desk. Now it is coming with an iPhone app that actually does the same thing for a fraction of the original $99 price of the Air Mouse.
It works via Wi-Fi and turns your
iPhone 4
into a hovering mouse, controlled with the movements of your wrist, thanks to the six-axis gyro inside. The app costs $1.99 in the App Store, and works with the MotionTools software for Mac and PC to start and operate desktop programs.
Alternatively, when controlling your home theater PC, gesture recognition lets you use a swipe motion to launch apps or move through songs in a playlist. It could be rather useful during presentations as well - you can scroll, pan, zoom and highlight, or turn the cursor into a laser pointer or drawing pen. Sounds cool, but for practical usability it will probably need a lot of getting used to.
via
SlashGear
Recommended Stories