Motorola's Webtop 3.0 beta gets outed on video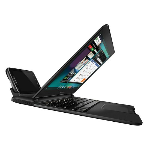 Motorola was one of the first on the scene with an Android device that could transform into a laptop-like device, but the ATRIX never caught on for that purpose both because of the exorbitant price of the laptop dock, but probably more importantly because the Webtop software used to make the transformation just didn't work all that well. Motorola is readying an update to the Webtop software, and we must say it is looking like a true upgrade.
Overall, the Webtop experience looks like it is far less customized, which is likely due to the upgrades of Android 4.0, so Motorola doesn't need to do as much to scale the OS from a phone to a laptop experience. The new Webtop looks nice, but the one thing that was never a problem about the older versions was that it came packed with Firefox, and that is no longer the case. Webtop 3.0 looks to have a version of the ICS browser, which is still a pretty solid choice, but we would have liked to see Chrome working well.
Of course, all this is beta, so we don't know how much it represents the final product, but at least it looks like a move in the right direction. And, it seems that ICS alone will make these kinds of transforming devices work much more seamlessly going forward.