Motorola to launch more laptop-dock compatible devices in H2 2011
24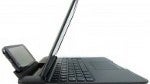 The Motorola ATRIX 4G Laptop Dock was one of the most innovative gadgets wesaw at CES. Deservedly, it stole the show, only to underwhelm us withits price when it was released later in March. But the disappointing priceand slightly laggy performance, shouldn't bring the whole idea down, and luckily –they haven't.
Motorola's earning conference call lastweek brought some exciting news about the future of the accessory aschief executive of Motorola Mobility Sanjay Jha himself said thatit's a key component of the company's strategy:
"In the Android ecosystem, thereis a need for us to differentiate," Jha said. "[With] Atrixdevices with the Webtop and lap-dock we really think there is analternative way of viewing the convergence between mobility andcomputing. And we will continue to focus on that," he answeredan analyst's question.
"You will see multiple devicesfrom us in the second half...and we will expand the range of ourlap-dock devices so we cover a broader price point, addressing boththe enterprise premium tier as well as more consumer tiers," Jhaadded.
The Motorola ATRIX 4G Laptop Dock won'tcut it to a full-blown netbook, but it was a big step in thatdirection. As Moto promises updates to its Webtop software andwith quad-core smartphones in the works, we can easily see it turninginto an even more appealing accessory.
source: CNET
Recommended Stories