Motorola reminds us that the Moto X featured genuine leather one year before the LG G4
43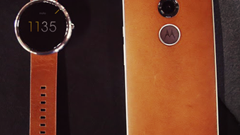 LG today finally announced
its
G4
flagship smartphone, making it its first handset to have a genuine leather finish (in multiple color variants). However, as you may know, the G4 is not the first Android smartphone to include leather in its design. Immediately after LG unveiled the G4, Motorola took to Twitter to remind us that its
Moto X
and Moto 360 can be customized with genuine leather since 2014.
Just like Motorola, which offers leather backs for the Moto X for an extra $25, it looks like LG will also charge more for its leather G4. However, for now we don't know exactly how much the G4 with genuine leather will cost. Also, LG didn't provide an exact release date for its new flagship smartphone, but we know that the handset
will be available starting May
around the world, including in the US (via Verizon, Sprint, AT&T, T-Mobile, Best Buy, and Amazon).
It's worth mentioning that the leather on the back of the LG G4 has two distinctive stitches in the middle, thus providing a different visual feel than the leather that you can get on the Moto X. Take a look at both approaches in the slideshow below, and let us know which one you like best!
Update
: LG replied to Motorola's tweet with: "Thanks for choosing to watch [our event]." Hah.
sources:
Motorola
(Twitter),
LG
(Twitter)