Motorola might be going dual-core with NVIDIA Tegra 2 this year
1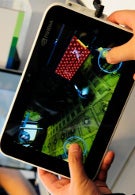 We remember that a few months ago
Motorola was planning to release a 2GHz phone
this year. Considering that
2GHz+ SoCs are not coming before 2012 at least
, it was hard to believe that Moto has a grasp on some unknown to mankind technology, but we loved the swirl of speculation that followed this statement.
Now it might turn out that Motorola meant two cores humming at 1GHz each, and the words could have been taken out of context. Out of all dual-core mobile chipset, only the next generation Snapdragon, and
NVIDIA's Tegra 2
have already shipped to manufacturers. The newest Snapdragon is
probably going to HTC
, so that leaves Tegra 2, if Motorola is to keep those 2GHz (rather 2x1GHz) promises.
Motorola is traditionally using TI's OMAP family of chipsets for the DROID family, and OMAP4 will be a dual-core Cortex-A9 endeavor, but it is still not ready for commercial shipments, from what we know. However, Moto has claimed that it will have NVIDIA graphics in its units, and that again leaves us with only one possible chipset choice for a dual-core flagship Motorola phone later this year.
That coincides with the rumors that NVIDIA and Motorola are buddy-buddies with Google on the next version of Android codenamed Gingerbread, which just accidentally might be tailored to tablets. So, for all we know, the dual-core Tegra 2 might appear
first in the Motorola Stingray tablet
, considering that we are already seeing
NVIDIA-powered tablets
multiplying like microwaveable popcorn.
Of course, that would mean that Gingerbread will be ready for the holidays, so we just hope this chain of thoughts doesn't turn out to be a train wreck.
source:
AndroidandMe