Next stop for your smartphone or tablet - anywhere between 2GHz and 2.8GHz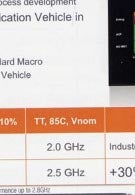 ARM Holdings and Global Foundries, which are the brains and brawns behind
mobile chipsets like the one in your smartphone
, announced at GTC 2010 that they have managed to put ARM's Cortex-A9 dual-core chipset on a 28nm production process. The upper limit of those 28nm silicon wafers coming out of Global Foundries is listed as 2.5GHz, and we are even reading some small print at the bottom of the presentation sheet below, citing "voltage overdrive" up to 2.8GHz
In layman's terms this cooperation means a 40 percent increase in performance, a 30 percent decrease in power consumption, and a doubling of the standby battery life when compared to the 45nm technology used in the
Samsung Galaxy S
, the
iPhone 4
, and the Motorola
DROID X
and
DROID 2
. The DROIDs have Texas Instrument's OMAP3 chipset inside, and are currently
besting almost all smartphones in terms of battery life
, at least until
the 45nm Snapdragon in T-Mobile G2
appears this month, and we can see what it is rated at.
Texas Instruments will be the big beneficiary here, since
it licensed first the next ARM chipset codenamed "Eagle"
. Given TI's close-knit ties with Motorola, it won't be startling if those rumors
Moto was spreading that it will issue a phone running at 2GHz
, actually hold water.
Global Foundries is thinking what the future holds as well, as it has already laid a roadmap for a 20nm production process, devices with which should start appearing around 2013.
source:
bsn