Toshiba's 10" Tegra 2 tablet delivers stunning Android benchmark results
9

Toshiba is no stranger to being a mobile chipset pioneer - its
TG01
was the first smartphone on the market with the 1GHz Snapdragon chipset. Now out of the blue they come up with a 10" tablet, rumored to be called Folio 100, and powered by NVIDIA's Tegra 2 mobile platform. The newest Tegra is built with the dual-core ARM Cortex-A9 architecture using the 45nm process, so it should deliver amazing performance with extended battery life, compared to even the most advanced chipsets currently on the market.
And deliver it does - over at Carrypad they measured 1911 on the Quadrant benchmark test, which, as you can see from the results graphic below, is more than 50% of what the fastest Android device in the stable - a Nexus One running modded Froyo - produced. Bear in mind that this prototype was still running Android 2.1., so the numbers are likely to increase further, and, on top of that, the benchmark test is not even optimized for a dual-core chipset.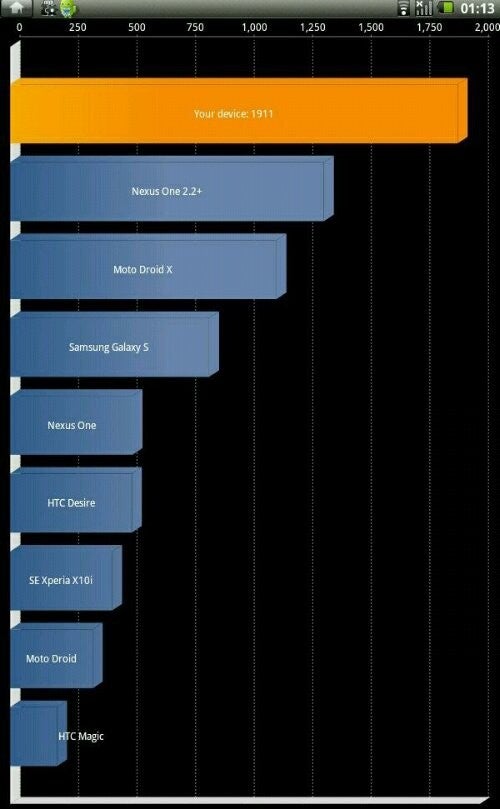 The rest of the Toshiba Folio 100 specs are nothing to sniff at either - it should feature a capacitive screen with 1024x600 pixels of resolution, 3G, HDMI-out and 16GB of internal storage. The browsing speeds were snappy, and the results from the BencmarkPi application were three times faster than the average. The tablet also played full HD 1080p videos at 13mbps, and Raging Thunder 2 at the full WSVGA resolution without a hitch.
Here is the full list from running the Italian site that outed the specs through Google Translate:
* Operating System: Android 2.2
* Processor: Nvidia Tegra 2
* Screen: multitouch display 10.1 "widescreen WSVGA (1024x600pixel)
* Audio: 2 stereo speakers and microphone 0.5 W
* Storage: 16GB internal memory
* Networking: 802.11b/g/n WiFi, Bluetooth, 3G
* Ports: HDMI, USB 2.0 standard, USB 2.0 mini audio jack
* Card reader: SD (up to 32GB) MMC
* Battery: 1020mAh, 3.7V, 22600mWh. Up to 7 hours of life with mixed use (web browsing and video playback)
* Internet: Opera Mobile Browser with Flash 10.1
* Productivity: a suite of office applications, PDF reader, ebook reader and RSS aggregator
* Multimedia: 1.3 MP Webcam
* Dimensions: 281 x 181 x 14mm
* Weight: 760gr
* Accessories: IR transmitter and housing, dock and port replicator for Toshiba tablet
It was interesting to observe that the battery is just 1020mAh, but still managing to deliver seven hours of mixed use, which they define as web browsing and watching videos. It certainly looks like the claims for 30% better battery life with the A9 dual-core chipsets are not an exaggeration - and that's with a 10" screen! Toshiba's engineers have also managed less than 30 seconds of boot time, says the Italian source.
Texas Instruments also has an
A9-based chipset that finished sampling
, but there is not even a hint of a phone or tablet that will be using it. Thus, the rumored Toshiba Folio 100 tablet might turn out to be the first dual-core mobile device on the market when it hits shelves.
source:
Carrypad
&
NotebookItalia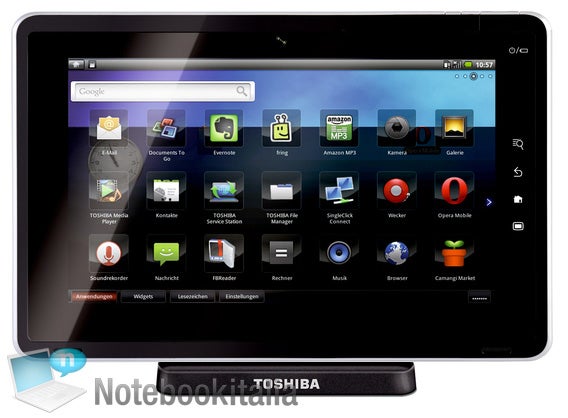 Toshiba Folio 100 tablet