Motorola lays off 5,600 employees in the first quarter, mostly from phone business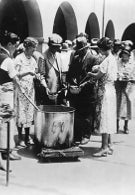 The recession has divided the cellphone manufacturing business into the haves and the have-nots. The haves might include a company like RIM that has
reported
good earnings, or MetroPCS which does well when times are tough, and Apple where the iPhone 3G continues to perform well. The have-nots could be represented by a few companies like Motorola. By waiting too long to refresh an aging line-up, the company relied too much on the RAZR and the once powerful cellphone maker soon found itself chasing everyone else. You can blame the economy or you can blame Motorola executives who waited too long to counter what they probably thought was a touchscreen fad, but either way the result is that the company has had to hand out pink slips to employees. Motorola said in a filing Monday that they have laid off 5,600 jobs in the first quarter. Add to that the 1,900 axed in the prior quarter and you get a reduction in the payroll of 7,500 people over the last two quarters with most of the cuts taking place in the phone division. That is 500 more employees cut than the 7,000 planned.
When will it end? A Motorola representative says that the company has a target to reduce costs by $1.5 billion dollars and they want to exceed that figure. Last year the company dropped from the third biggest cellphone producer to number 5 and with more red ink on the way, it is up to newly hired Sanjay Jha to turn the cell business around. One thing that
Motorola has said
they want to do is to produce future handsets using Google's open source Android OS. That might help with the software, but there still is the question of design and hardware and that is something that Motorola's own people will have to figure out before the layoffs can stop and the ink return to black.
source:
TheStreet.com