Motorola expected to make drastic cuts while focusing on Android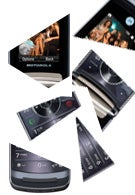 How the high and mighty have fallen. It doesn't seem too long ago that the Motorola RAZR was the must-have cellphone for the early adopters. The slim lines and that funky looking keypad made the device instantly recognizable and led the manufacturer to the top of the wireless world. But funny things can happen when you're sitting at the top-ask the N.Y. Giants this morning. Phones started to become small hand-held computers capable of browsing the internet, showing YouTube videos and allowing users to read and send e-mail including attatchments. Motorola was blinded by the success of the RAZR and was slow to develop follow up models that could do all the things that the newer phones from other companies could do. Reports are hitting the internet that as much as half of the employees in Motorola's handset division will get the pink slip. Also, the company has decided to not have a presence at the CTIA show in April. But hey, that is only the biggest and arguably the most important event held in the U.S. for cellphone manufacturers. The company will limit to 12 the number of new phones it will introduce in a year, and all smartphones will be using the Android OS exclusively.
Will Motorola survive and pull off a Palm-like comeback? Or will it become another grand old American brand name now that lives only in our memories?
source:
PhoneScoop