Motorola infographic shows how and where screens crack
14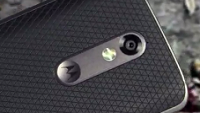 With
the ShatterShield display on the Motorola DROID Turbo 2 preventing the phone's screen from cracking
, the company released an inforgraphic on Thursday that is all about the different ways that people break the display on their smartphone. First, Motorola says that 50% of the world's population has had a phone screen crack at least once. India is the word leader in that department, with 65% of the population in that country experiencing a broken display. At the other end of the spectrum, only 34% of those in the U.S. have had that happen to them.
A phone with a cracked screen usually remains cracked. 42% cited the cost of the repair as to why they haven't fixed a broken display. 23% of those sporting a phone with a broken display, continued using it even if they cut their finger on it.
So how do people break their smartphone screens? 50% of the time, it happened when the phone just dropped out of the user's hands. 32% of the the broken screens were the result of the handset falling out of a pocket, and 27/% of the cracked screens got that way when the device fell out of the user's lap when he/she stood up. 7% have broken their smartphone screen while taking a selfie, and 5% broke the display by throwing the phone at someone.
On average, 7% would rather accidentally post a private selfie on social media, than break the screen on their phone. That ranges from the 17% in India who would rather spread a secret than shatter their smartphone display, to the 3% in Brazil who would rather have a cracked screen than a secret post on social media.
We've broken up the infographic for you, to make it easier for you to read. Assuming, of course, that the phone you're reading this on doesn't have a cracked display.
Thanks for the tip!
via:
TalkAndroid
Recommended Stories