Motorola could still out a Windows Phone 7 device, despite Microsoft's lawsuit
1

Motorola is keeping its options open in regards of Windows Phone 7, said CEO Sanjay Jha, if Microsoft has managed to craft an enticing mobile OS. This statement comes in response to questions about
Microsoft's lawsuit
against Moto, for patent violations in its Android phone line.
Motorola's co-CEO stated: "I would much rather have done without that lawsuit, but it doesn't always work out that way." Android has been a turnaround story for Motorola with the DROID line on Verizon, and a sufficient answer to Apple's iPhone for both Moto, and the carrier. Mr Jha also said that they have been waiting for Microsoft to make a compelling update of Windows Mobile last year, and when it didn't happen, they turned to Android, which actually enabled the company to survive, and even turn profitable.
Motorola is cranking up its Android line with
AT&T
and
Verizon
, in a very nonchalant attitude to Microsoft's lawsuit. The Guardian has come up with a nice infographic who is currently suing who in the mobile business, with disputes both ongoing, and resolved. Have a look at the mess below. Hopefully all those lawsuits are not only aiming to slow down Android's proliferation.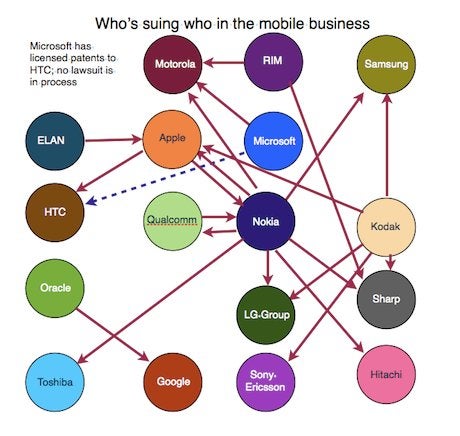 Mobile industry patent infringement lawsuits
source:
WSJ
&
Guardian