Motorola Turbo Charger photographed in the wild
21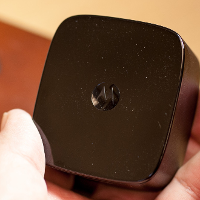 The Motorola Turbo Charger has been photographed, and you can quickly see that this is not a small little plastic box with prongs. But in exchange for having a sizable accessory, the Turbo Charger will power up specific handsets for 8 hours of battery life after
just 15 minutes
of charging. The box states that the plug works on "
USB-powered devices from Motorola, Apple, Samsung and more
."
Still, the super charging capabilities of the accessory is available only to "
optimized Motorola devices with Qualcomm Quick Charge 2.0 technology such as the new Motorola Moto X. Battery must be substantially depleted; charging rate slows as charging progresses
." If you are using a compatible phone with the charger, super high voltage will allow for super fast charging. But what if you're using a phone that doesn't support the Turbo Charger? Will plugging it in mean a shocking finale to your life? Hardly. In the worse case scenario, your phone will simply charge using standard voltage.
Check out some pictures of the Motorola Turbo Charger in the slideshow below. The accessory is priced at $35, which seems like a bargain considering all of that wall-hugging time you will save.
source:
AndroidCentral