Motorola Shamu aka Nexus 6 appears on another benchmark site; screen size is questioned (no longer)
53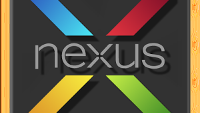 The unannounced Motorola Shamu aka
Nexus X
aka Nexus 6
recently broke some records on the Geekbench web site
. This device apparently will have all of the specs required of a top shelf model for the second half of 2014. According to the Geekbench exam, the phone features a 5.9 inch screen with a 1440 x 2560 resolution, quad-core Snapdragon 805 CPU, 3GB of RAM and back and front-facing cameras of 12MP and 2MP respectively. A 3200mAh battery is inside, and Android L is pre-installed.
But there is more than just one benchmark site. The Nexus 6 has just taken another trip through benchmark country, according to a tweet. The stock Android phone was put through the ringer at CPU-Z (no pun intended) and revealed a quad-core 2.65GHz Snapdragon 805 CPU under the hood. It also showed that the Adreno 420 GPU is crunching graphics on the device. 3GB of RAM is confirmed as is the 1440 x 2560 QHD resolution.
There is one anomaly. The 560ppi pixel density listed would indicate a 5.2 inch QHD screen, not a 5.9 inch glass. And a few months ago,
a GFX benchmark test for Shamu showed the phone wearing a 5.2 inch display
. Could it be that the Motorola Shamu aka Nexus 6 aka Nexus X actually employs a 5.2 inch screen? We might have to wait for the phone to be unveiled to find out for sure.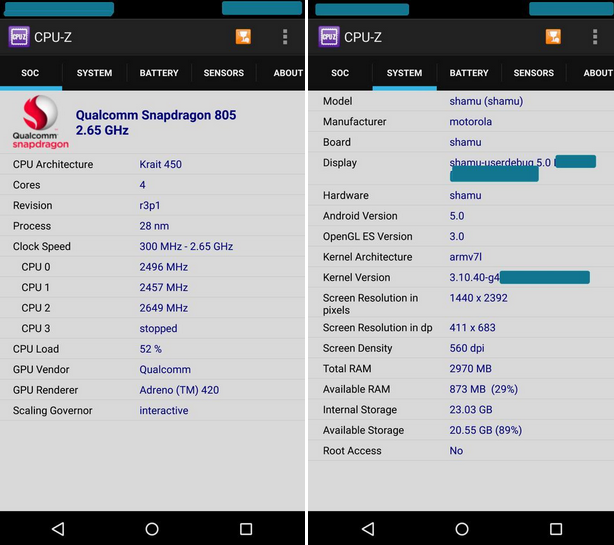 Nexus 6 runs through the CPU-Z benchmark test
Thanks for the tip!
source:
@r0fl
via
gadgetzarena
UPDATE:
As pointed out by one of our readers, the 560 figure on the CPU-Z benchmark test is dpi, not ppi. So there is no mystery after all. The Nexus 6 will measure 5.9 inches. After all, why give a phone the code name of Shamu if it isn't going to be huge?