Motorola Moto X new Clear Pixel camera and Aptina Clarity Plus explained
31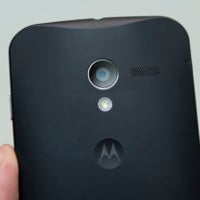 Motorola's Moto X is expected to come with a revolutionary new
'Clear Pixel' camera
that will eliminate motion blur and feature outstanding low-light performance. How is that possible and what is the technology behind it? And what is 'Clear Pixel' after all? Optical company
Aptina has just officially unveiled its Clarity Plus
(Clarity+) technology and chances are the same technology will power the camera in the Moto X. Here is what it's all about.
To understand the new Clarity Plus, we have to first understand digital cameras. The sensor of a camera consists of pixels that by themselves can only capture the intensity of light, but not its color. That's why, on top of the sensor, manufacturers place a
color filter array
. Thus, each pixel is covered with a color-sensitive mosaic, so that the sensor can record that color information.
So while in traditional Bayer each element of the filter mosaic corresponds to a particular color, in Clarity+ only 50% of the filter elements translate into color directly. That means the other half lets all light in, without filtering it, so we have
double the amount of light sensitivity
in a Clarity Plus module.
That has huge implications, of course.
More light means better images in low-light
and faster shutter speeds in good lighting conditions. The difference is dramatic. In practical terms Aptina promises that its 13-megapixel cameras with smaller 1.1µm pixels can match the light sensitivity of 8-megapixel 1.4µm-pixel sensors.
Good news is that Aptina has already integrated the proprietary ISP in some chips and it is talking with other SoC manufacturers to include the imaging chip in their new designs. If Motorola's upcoming Moto X indeed uses Aptina's Clarity Plus technology marketting it as 'Clear Pixel' that could be one explanation as to why it uses the slightly dated Snapdragon S4 Pro MSM8960. Integrating the ISP might have simply been only done for it.
Motorola Moto X has already shown up
in the hands of Google Chairman Eric Schmidt and that's as close to an official confirmation as it gets. Motorola tweeted a blurry low-light image of a kid obviously teasing that its next cameraphone won't have that issue. Everything seems to fall together.
The official unveiling of the Moto X is expected for early August with nearly immediate pre-sale availability. The Moto X should arrive on all U.S. carriers and go on sale at their stores at the end of August, and
August 23rd in particular for Verizon Wireless
.
If it has such a ground-breakingly new camera, as all rumors suggest, we're definitely excited.