Motorola Moto G getting OTA update to fix troublesome bugs
52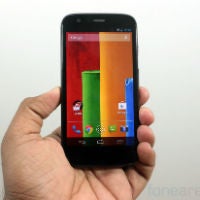 The Motorola Moto G has been widely regarded as one of the best devices in its price point, but that doesn't mean that the handset hasn't had its share of bugs. Some of them have been quite annoying for the unlucky users who have been affected. But, Motorola has started pushing an update to the GSM versions of the Moto G (aka all but the Verizon model) that will fix the worst of those issues.
The update is version number 174.44.1 and it has been reported to be pushing out to US and UK models of the Moto G, but should be rolling out to the rest of the globe soon enough. On the change log is a fix for a bug that had been causing cell signal loss for users, a fix for low call volume, a wallpaper cropping issue, and a trouble with USB on the Go.
The cell signal loss issue has been one of the more troublesome issues. We have also heard reports of SMS sending and receiving issues, so we're hoping that this update will fix those issues as well. The update is pushing out now, so if you have a GSM version of the Moto G, you should see it soon enough.