Motorola Moto E hands-on
27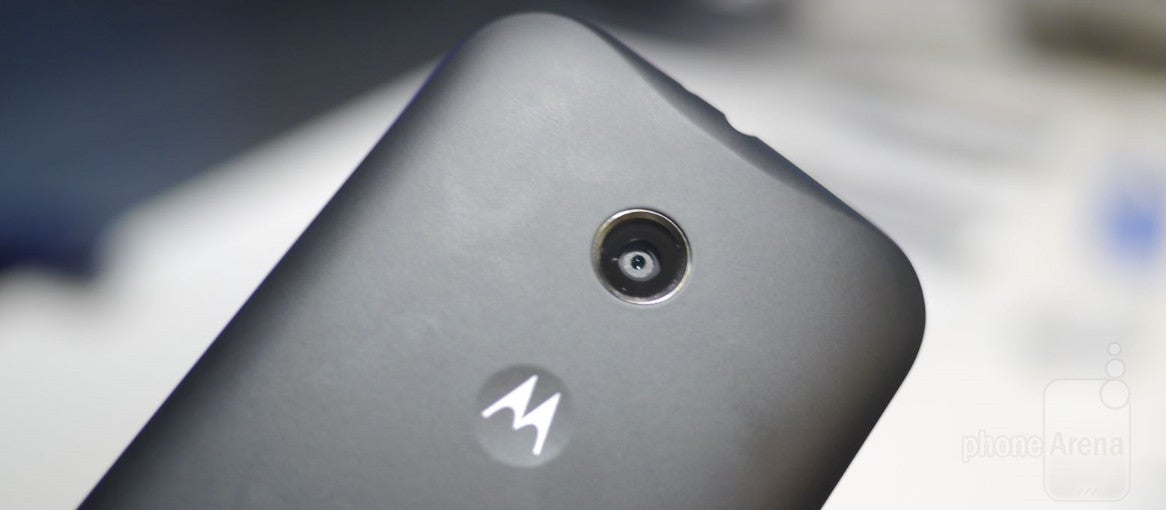 Keeping a lower profile nowadays, Motorola seems more intent than ever to tackle the entry-level market. No, they're not trying to win consumers with free on-contract phones, but rather, they've gone the route of producing off-contract phones that are sporting hard-to-beat prices. Already, we've seen it during the holidays with the Motorola Moto G, which proved to be an inviting venture internationally. In following up to that success, Motorola is unleashing its latest cost-cutting Android powered smartphone in the Moto E. Without diving into all of the specs right now, let is just point out that this small bundle of joy is going to be rocking an amazing $129.99 cost!
Design
One quick peek at the Moto E, we're instantly reminded about the Moto G, seeing that it shares the same design language as its successful sibling. In the greater scheme of things, there's nothing really worth gloating about with the Moto E's design – more so when it grazes the humble side of things. Bearing in mind the cost of the phone, we really can't complain too much about the rehashed design of the phone, but at least it offers some personalization in the form of the colorful selection of interchangeable shells that Moto will sell alongside the device.
Overall, the design is uniform and pretty comfortable to hold in the hand due to the subtle curved rear casing. More importantly, though, its construction is pretty decent considering its low cost. Oh yeah, it also features a water-resistant splash guard to keep the phone from conking out if it's used in the rain. However, don't think for a moment that it'll survive complete submersion.
Display
Far from sporting the dazzling visuals seen with today's crop of contemporary high-end smartphones, the Moto E favors having a more hand-friendly sized 4.3-inch 540 x 960 (qHD) IPS display with Gorilla Glass 3 on top of it. Yes, it's actually a lower resolution display than the 720p screen found on the Moto G, but nevertheless, its pixel density count of 256 ppi is enough to make surfing the web tolerable.
However, our eyes can clearly tell that the display distorts when tilted slightly. From the front, colors have a nice punchy tone to them, but from the sides, it washes out tremendously. Again, the intent here is to provide a usable display that keeps the phone's cost low – and it manages to do just that.
Interface
Out of the box, the Moto E features a pretty stock Android 4.4.2 KitKat experience. From our cursory look, we can't find any sort of customization from Motorola's end, so hardcore Android fans will be pleased by that gesture. Naturally, the UI is pretty clean, intuitive, and straightforward, giving first time users an easy time taking hold of the experience.
With the phone's introduction, we find two new features that we haven't otherwise experienced on past Motorola Android smartphones. First, there's Motorola Migrate, which is none other than a utility to help new owners to easily transfer content from their old device to the Moto E. Secondly, there's the Motorola Assist feature that helps prevent us from being interrupted during certain scenarios – like when you're at an important meeting. As a whole, there isn't anything profoundly new that would make us drool with glee, but hey, at least it's a stock experience to begin with.
Processor and memory
Another area where Motorola had to be conscious about in keeping the Moto E's cost within their parameters is found with the phone's processor. Specifically, it's powered by a dual-core 1.2GHz Qualcomm Snapdragon 200 SoC coupled with 1GB of RAM and the Adreno 302 GPU. During our brief hands-on time, the phone exhibits a fair amount of responsiveness with basic things – such as launching apps and navigating around the homescreen. Obviously, this is something expected, but we're curious to know how well it'll handle more intensive stuff.
Even though it's stuffed with only 4GB of internal storage, it's a thoughtful gesture from Motorola to arm it with a microSD card slot for increased capacity.
Camera
Interestingly enough, there's only a rear camera with the Moto E – a 5-megapixel one sans flash. It's something we're not too surprised to find with this caliber of phone, so don't think for a moment that this is going to compete against some of the greats in the space. Instead, it's merely there in the event you want to capture something on the fly. We can't say if the images it captures are even usable, so we'll be reserved with our judgment until we see the final results on a computer.
Conclusion
It's no specs demon, nor does it tantalize the eyes with its design, but without question, the Moto E has our complete attention with its hard-to-beat price of $129.99 – and that's for the unlocked model that's going on sale right now in the US! Domestically, it's going to be tough to say if consumers will be wooed by this particular device, especially when some consumers are still deeply bounded to the whole notion of contract phones. Despite that, we can certainly say that this is gunning to become a hot item abroad, where people are more likely to purchase their phones outright. Getting our attention is one thing, but it still needs to prove itself in being a usable thing – so expect our review soon!