Motorola Moto 360 gets its Android 5.1.1 update, Wi-Fi support and other novelties included
15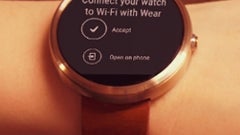 Motorola today started rolling out an official over-the-air Android 5.1.1 update to its Moto 360 smartwatch.
As reported earlier this month, the Moto 360 isn't among the first Android Wear smartwatches to get the 5.1.1 update, because
Motorola encountered some performance issues
and had to delay the rollout. Fortunately, everything's been fixed, and now all Moto 360 users can expect to receive the Android 5.1.1 update in the next few days the latest.
To showcase the new features that the 5.1.1 update is bringing to the Moto 360, Motorola released a few short videos (embedded below). These show how the smartwatch can now connect to Wi-Fi, how you can draw on its screen to create emojis, and how you can use gestures to scroll up or down (flick down to see previous notifications, or up to see the next notifications). Other novelties, not shown in the videos, include the ability to change font sizes, and always-on apps.
At the moment, the Motorola Moto 360 can be bought for less than $200 if you're getting it from Amazon.
source:
Motorola
(Twitter)