Motorola MOTOACTV hands-on
14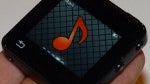 Don't let that thumbnail fool you, that's because the thing you're looking at isn't a highly prized watch phone of some sort, but rather, Motorola's very own
MOTOACTV
(not to be confused with the phone from 2008) is a tasteful fitness oriented accessory for your Android powered smartphone. Similar to the not-yet-to-market
LG LifeGram
that we checked out at CTIA Enterprise & Applications 2011, the MOTOACTV combines the functions of a pedometer, heart rate monitor, phone, and MP3 player all into one. For those interested, this puppy starts off at a
staggering $249 for the 8GB version
– while the 16GB one will sell for $299.
Holding onto the MOTOACTV, it's surprisingly one
compact
device when it's not used with the accompanying wrist strap. In fact, it's one solid feeling device that's lightweight and packs a tiny 1.6" capacitive touchscreen to help you navigate through its menus. Buttons around its sides help to accomplish various tasks like making a selection, advancing/reversing a track, and volume control.
Naturally, fitness lovers will truly adore this specialty accessory that will not only allow you to plan and manage your fitness habits, but in those desperate times when you're sorely lacking energy to work out, it can actually become that motivational item to get you on your feet. Being an Android-based device, it connects with any Android smartphone via Bluetooth, and of course, it's how the MOTOACTV is able to synchronize data with the MOTOACTV.com service.
Needless to say, the MOTOACTV isn't for everyone, but for those who are looking to shed more than a few pounds and get fit in general, they'll undoubtedly find it to be an appealing accessory. However, its starting cost of $249 just might turn some people away simply because of its hefty price point. Then again, it's not often we find a smart fitness oriented device like this.