Motorola DVX to come with 4.5" screen, dual SIM support and $250 full retail price?
19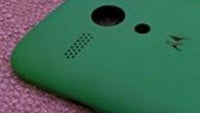 The Motorola DVX, an affordable handset that looks much like the Moto X, will feature a 4.5" display and cost merely $250 off contract, according to Chinese leaker Houdabao. The information is far from official, so take it with the usual grain of salt.
It does seem logical, though. The Motorola DVX is expected to get released globally unlike the U.S. only available Moto X. With an affordable price and some of the features of the Moto X, the DVX might well get even better traction with customers.
The DVX's price is expected to become its biggest trump card as the handset will allegedly sell for between $200 and $250 off contract. For that lower price, you get a 4.5" LCD display (not a Super AMOLED one, and with wider bezel), Motorola's X8 computers system with a separate core for natural speech recognition, and a dual SIM card support. The back cover of the DVX is rumored to be easily removable so you can swap batteries.
All of this sounds great on paper, and we're eager to hear more about the upcoming affordable Motorola smartphone. Would you buy such a Motorola DVX?
source:
Weibo
Recommended Stories