Motorola DROID X2 Benchmark Tests
9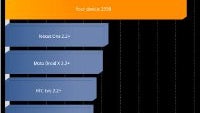 Even though we're starting to see a steady stream of handsets offering next-generation dual-core processors, the
Motorola DROID X2
has the prestigious title of being Verizon's very
first handset to boast a dual-core 1GHz processor
, and rightfully so, it's only fitting for us to run a couple of benchmark tests to initially better gauge its capacity.
By no means is this handset a slouch, even though some might be put off by the fact that it's lacking 4G LTE connectivity, but despite that omission, the Motorola DROID X2 has some serious hardware under the hood. Running the
Quadrant app
first, we're first impressed to see it completing the test in such a quick manner – thus giving us test scores of
2,398 and 2,442
. Sure it might not be as mind blowing as the results we've seen with the
LG Optimus 2x
and
Samsung Galaxy S II
, it's still nonetheless respectable and better than most others out there. Furthermore, we ran the
AnTutu Benchmark test
and it ultimately gave us an overall score of
3,382
, which places in alongside other high-caliber devices like the Motorola XOOM and LG Optimus 2x.
Overlooking the scores put up by the handset, we're still pleasantly impressed with the overall operation of the handset so far since we experience some
responsive and quick actions
in the short time using the handset. Naturally, moving across the homescreen with a regular wallpaper activated is smooth, with no evidence of any slowdown or lag. Furthermore, loading up our web site, we're able to instantly start browsing, scrolling, and zooming with no adverse effects befalling the handset. Surely enough, we'll be doing some extensive testing over the course of the next few days to really get a feel for its operation.
Recommended Stories