Motorola DROID Turbo vs Apple iPhone 6: first look
44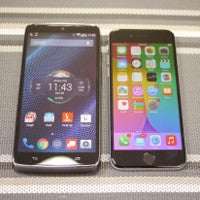 In way, we have to applaud Apple for having a totally different approach when it comes to manufacturing smartphones. Rather than focusing on specs, which many of its competitors do, they've delivered a quality product in the iPhone 6 – yet, its specs sheet doesn't scream anything revolutionary. On the flip side, that feeling seems more pronounced with the just announced Motorola DROID Turbo, a specs beast of a smartphone that doesn't seem to have any equal at a moment.
One of the great things about the designs of both phones, is that neither one is obnoxiously big to handle with one have – albeit, the iPhone 6 technically has the more compact body between the two. Not only that, but it also exudes the more premium and luxurious finish thanks to its unibody aluminum casing. To be fair, though, the design of the DROID Turbo isn't a bad either, due to the balance it exhibits with its sturdy metalized glass fiber body. Indeed, it's not as prized as an all metal constructed thing, but we certainly agree that it would handle falls far better.
Checking out their respective displays, there's no arguing that the DROID Turbo has the impressive screen – a 5.2-inch 1440 x 2560 quad-HD AMOLED display. The numbers alone make our eyes jump out from our sockets, especially when compared to the 4.7-inch 750 x 1334 Retina Display of the iPhone 6. From a normal distance, however, it's still tough to gauge the detail superiority of the DROID Turbo, but upon closer inspection in the web browser, it's evident that the DROID Turbo delivers more detail.
Enlightening us even further, the DROID Turbo has other qualities that make it favorable on paper – like its quad-core 2.7GHz Qualcomm Snapdragon 805 processor with 3GB of RAM, and its beefier 21-megapixel camera. In contrast, the iPhone 6 packs a dual-core 1.4GHz Apple A8 chip based on 64-bit architecture, and a smaller 8-megapixel camera.
Needless to say, the specs attached to the iPhone 6 don't seem flattering against the DROID Turbo, but as we've seen countless times in our own comparisons, specs have no bearing on performance. And we'll leave it at that folks! Yes, the Motorola DROID Turbo is an impressive thing to behold, but it's going to need more than super-duper specs to outclass the iPhone 6 long term.