Motorola DROID RAZR MAXX HD hands-on
11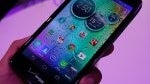 We all thought last year that things couldn't get any better for the already popular
Motorola DROID RAZR
for Verizon, but in actuality, it was just the beginning. After a few months of tearing up the scene, the DROID RAZR found itself in a heated competition with a close member of the family in the
Motorola DROID RAZR MAXX
. Well people, we're going to see it again this time around – albeit, we're curious to know if the Motorola
DROID RAZR MAXX HD
will be arriving at the same time as the
DROID RAZR HD
, or spaced out by a few days/weeks.
So what's there to say upon looking at this one? No doubt, it looks exactly like the DROID RAZR HD! From the choice of materials to its impeccable construction, it's nearly the same device, so we're not going into detail about everything here again. Instead, what's noticeably different with the DROID RAZR MAXX HD is that it's more uniform with its thickness – whereas the DROID RAZR HD still employs a slight hump to its rear. Still, this beauty is somewhat streamlined at 9.3mm thick.
Needless to say, part of the reason why it's thicker and donning a uniform body is because it's packing along a powerhouse 3,300 mAh battery that's alleged to offer "ridiculously long battery life." In fact, the specs sheet has it down to achieve 13 hours of video playback, 21 hours of talk time, or 10 hours of streaming video through Big Red's 4G LTE network. Of course, battery life is high on the list for many people, but we're curious to see its real world results for ourselves.
Although it manages to bring back the same sized battery as last year, it's worth noting that the DOIRD RAZR MAXX HD is also featuring a
4.7" 720p Super AMOLED display
, which should give that battery a lot of work. As like the DROID RAZR HD, the display of the RAZR MAXX HD is quite stunning – piercing to tell you honestly! Well, that's partly due to the pretty colors it's able to manufacture, its wide viewing angles, and killer contrast level to maintain its clarity in all lighting conditions.
As for the rest of the smartphone, the
specs sheet
is pretty much the same as the DROID RAZR HD – like its dual-core Qualcomm Snapdragon processor, 8-megapixel camera, 1080p video recording, and 4G LTE connectivity. As for the
software experience
, we're a bit hesitant to pass judgment because it's not remarked as being a final build – though, the units on hand at the press event were running Jelly Bean. However, when the device launches, it'll actually be running Ice Cream Sandwich out of the box, with an eventual upgrade to Jelly Bean.
Yet again, the most crucial thing to know about the DROID RAZR MAXX HD wasn't mentioned at the press event – and that's
pricing
! As we've said about the DROID RAZR HD, the pricing will once again play a key role for this battery lasting smartphone. History told us that the DROID RAZR MAXX from last year sported a high price point of $300 on-contract, which seems extraordinarily hefty nowadays – so we're hoping to see it chiming in at a lower point. Considering that the HTC One X and Samsung Galaxy S III both flew in at $200 on-contract, we're hoping to see Motorola take the aggressive path with both devices.
Recommended Stories