Motorola DROID RAZR HD vs the competition: size comparison
20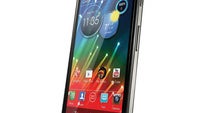 "The most compact big screen smartphone"
– this is how the
Motorola DROID RAZR HD
was described
during its official unveiling yesterday
. Sounds quite awesome, especially when smartphones of 4.7 inches and above are so big that they create their own little gravity field. Jokes aside, Motorola's new flagship is relatively compact indeed, as it became evident in our
DROID RAZR HD hands-on
, but does it really stand above all competing devices?
That is the question we wanted to answer, so we put some technical data together and came up with a visual size comparison between the Motorola DROID RAZR HD and four Android smartphones of similar proportions: the
Sony Xperia T
,
HTC One X
,
Samsung Galaxy S III
, and
LG Optimus 4X HD
. The overall dimensions of all five devices are pretty similar, but what puts the RAZR HD on top its is ultra-slim waistline. At 8.4 millimeters, it is the thinnest of the bunch.
Something that you might not have noticed, however, is that the DROID RAZR HD is not quite lightweight. In fact, it is the heaviest among the smartphones we are comparing it with, tipping the scales at 141 grams. The LG Optimus 4X HD comes next at 141 grams, followed by the Xperia T (139 grams), Galaxy S III (133 grams), and HTC One X (129 grams). Nevertheless, a few extra grams are not something we would complain about, knowing that the 2,500mAh battery inside the Motorola DROID RAZR HD, which is surely behind the extra weight, should be able to provide excellent battery life.
And that's pretty much all you need to know about the size and dimensions of the Motorola DROID RAZR HD. Its maker has put a lot of effort in creating an outstanding Android device, and the results do not seem to disappoint.