Motorola DROID RAZR HD hands-on
15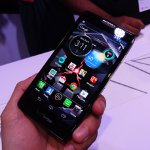 There's no arguing the kind of impact the
Motorola DROID RAZR
had on the Android sphere last year when it was unveiled and released. At the time, Motorola stormed back onto the scene with an Android smartphone worthy enough to take the throne by storm – and rightfully so, it ended up becoming one of the most memorable devices last year. Fast forward to now, we were beginning to wonder about Motorola, as they've been absent in truly announcing an esteemed flagship device. Sure, AT&T managed to nab the
Motorola ATRIX HD
, but it simply seemed to many people as none other than a DROID RAZR with an HD screen. Well folks, the Verizon is actually the one getting a proper successor, in the aptly named
Motorola DROID RAZR HD
.
Right away, it's quite obvious that it's sporting a totally
new design
, but at its core, we're able to make out some of the familiar design cues that made the DROID RAZR a stand out hit – like its water-resistant splash coating, KEVLAR back casing, and
sturdy overall construction
. Simply, it's built like a tank, which is a nice thing to ensure that it'll withstand some level of punishment. Whereas the original had a noticeable hump in the rear around its camera, the DROID RAZR HD's hump is less pronounced, and in fact, it's barely recognizable this time around. Overall, it's pretty svelte at 8.4mm thick, but it's amazing that it's able to maintain the same footprint as its predecessor, but it's now packing along a larger display.
Enter the
4.7" 720p Super AMOLED display
of the Motorola DROID RAZR HD, which looks stunning thanks once again to the luscious colors it's able to show and its wide-viewing angles. Details are naturally sharp from head to toe, to make out even the most of faint text within the web browser. Throw in
Gorilla Glass
on top of it all, and you get that peace of mind of knowing it'll do wonders in keeping a clean appearance.
For a flagship device, the handset is outfitted with all the modern conveniences we'd expect to find – such as a lighting fast dual-core 1.5GHz Qualcomm Snapdragon processor and 4G LTE connectivity. Thankfully, the units being shown at the press event were running Jelly Bean, but from a cursory look, it didn't seem too different from what we saw with the customized experience running on the Motorola ATRIX HD for AT&T.
As much as we're liking the svelte look and sturdy feel of the handset, we're rather underwhelmed when it comes to the experience – mainly because it seems lax when compared to its rivals. Obviously, we've seen Samsung take things up a notch with its TouchWiz Nature UX and HTC continuing to do its thing with Sense, but we were hoping to see something more extensive with Motorola's offering. Still, we suppose there's still some time to tweak it, especially when the device will launch with ICS out of the box – with an eventual upgrade to Jelly Bean.
Finally, the last piece to the puzzle is
pricing
, which wasn't announced at all. Simply, it could be a deal breaker for this device, since we all know that it'll be competing against its own sibling in the Motorola DROID RAZR MAXX HD. So yeah, we're curious to see how aggressive Motorola and Verizon will go with this one.