Motorola DROID RAZR, DROID BIONIC, Galaxy S II and iPhone 4S spec smackdown
69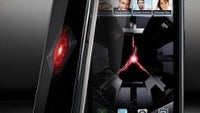 The
Motorola DROID RAZR
has arrived and it's stunning - it's the thinnest smartphone out there with a 0.28-inch (7.1mm) body. Moreover, it fits LTE in that ultra slim case, but also a 1.2GHz dual-core processor and all the perks of a high-end handset. While most of that fits in a spec sheet, there's something more about the all new RAZR - it comes with kevlar reinforced back side, so it's not only thin, but very durable. Designwise, it features the signature diamond shape present in the latest Moto devices and first seen in the Motorola PHOTON 4G.
On the software side it comes with Android 2.3.5 Gingerbread, which might be a bit of a downer, if Android Ice Cream Sandwich gets announced today as expectations are. In either case, it's amazingly thin and this alone should already catch your eye. How does it fare against the current Android elite? Take a look at our
spec smackdown
including the Samsung Galaxy S II and the Motorola DROID BIONIC, but also the biggest contender from the other camp - the Apple iPhone 4S.