Motorola DROID MAXX hands-on
21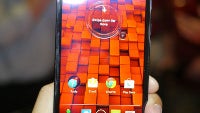 Introduction:
Announced alongside its siblings, the
Motorola DROID MAXX
, as its name so very much implies, focuses a lot with battery life. Continuing to set the pace for all other things, Motorola was able to improve its battery life over its predecessor, as the
DROID MAXX pushes the boundaries
to the next level by giving us a smartphone capable of delivering not one, but
TWO whole days
of juice from a single charge. Needless to say, it's the one hallmark feature that Motorola has been able to call its own, so let's take a quick look at how this pre-production model does justice.
Display:
Let's cut to the chase, the DROID MAXX shares the same exact display that's featured in its slimmer sized sibling, the
DROID Ultra
. Specifically, it's a
5-inch Super AMOLED HD display
that has a resolution of
720 x 1280 pixels
(720p). As we've remarked already in our hands-on look at the DROID Ultra, this display is rather underwhelming when you think about what its competitors are offering. At the very least, we would've preferred at seeing a 1080p display, but despite that, we'll admit it's still detailed looking and vibrant with its saturated color reproduction.
Design:
Seriously, one would almost have some difficulty trying to tell apart this handset from its predecessor. Out of the three recently announced Motorola DROIDs, it's the DROID MAXX that actually stays the most true to the design language of its predecessor. For a smartphone that's stuffed with a beefy
3500 mAh battery
, it's impressive to find that Moto is able to keep its profile at a
uniform 8.5mm thin
. Indeed, it's thicker than the DROID Ultra, but it's still relatively thin by today's standards. In the rear, its
10-megapixel auto-focus camera
with LED flash manages to stay flush with its rear casing.
Flaunting the same
rubbery feeling Kevlar rear casing
, this is the only one of the bunch that's able to maintain a clean appearance at all times – whereas the other two sport glossy finishes, which are prone to smudges and fingerprints. Somewhat expected, the
construction of the device is fantastic
, as it boasts that sturdy frame to give us peace of mind that it'll withstand a lot of punishment.
Interface:
Visually speaking, there's not a whole lot new with the experience here on the DROID MAXX, and in fact, the new trio of DROIDs share the same experience – a mostly stock
Android 4.2.2 Jelly Bean interface
. Taking a cursory look at the homescreen, it's obvious that some of the Motorola-specific widgets have been visually updated, but everything else seems to be the familiar UI we're accustomed to seeing. However, there are a handful of new and notable features that are exclusive to the DROID line – these consist of the
touchless controls, active notifications, and quick camera access
functions. Who knows how practical they'll be in the long run, but it's nice to see some new additions to the experience.
In addition to that 3500 mAh battery, the DROID MAXX isn't messing around either in the processing department, seeing that it's boasting one heck of an impressive thing under the hood –
a dual-core 1.7GHz Motorola X8 Mobile Computing System
that's complemented by its 2GB of RAM and 400MHz quad-core GPU. Not surprisingly, the handset seems
super snappy
from our quick look at it, but we're guessing that the enhancements in software, combined with its 8-core processor, enables the handset to achieve that
class leading rated battery life of 48 hours
. In the greater scheme of things, we're dying to know how it performs with real-world scenarios.
Expectations:
Out of all the major smartphone makers, it's only Motorola who seems to solve the problem of battery life – and the DROID MAXX seemingly proves it for sure. Without a doubt, the DROID Ultra has the chic design, but if battery is most paramount to you, there's no arguing you'll want to stick with this, even despite the fact that it's priced at
$299.99 with a 2-year contract
when it's released soon. It might set new records and whatnot in the battery life department, but as always, it's the all-around performers that continue to attract the most attention with consumers.