Motorola Calgary and IRONMAN to run on Android?
7

In the last few days, we have seen some interesting news about the Android OS. We have seen
Vodafone launch the HTC Magic in Spain
and two days later announce that
Germany is the next place where the Magic will be sold
. As we
reported
, Samsung has introduced their first device to run Google's open source OS, the I7500.
And now, according to a BGR tipster inside the company, here comes Moto throwing their hat into the Android sweepstakes with the introduction of the Calgary. While every Android device we see is introduced with the same wallpaper featuring the giant analog clock hanging on the sky, surrounded by clouds, this device is pictured with a different photo that shows the earth from what could be an orbiting satellite and while not a big deal, the change is refreshing. The interface also looks personalized. The sliding QWERTY keyboard looks unique and interesting and in no way does it resemble the one found on the G1. Back when the year was fresh, the Schaumburg, Illinois based manufacturer
said that they would be focusing on Android powered devices
while also concentrating on quick and easy links to social network sites. This handset is expected to feature fast access to the latter. Availability date and pricing were not mentioned although a second quarter launch has been considered likely by the tipster.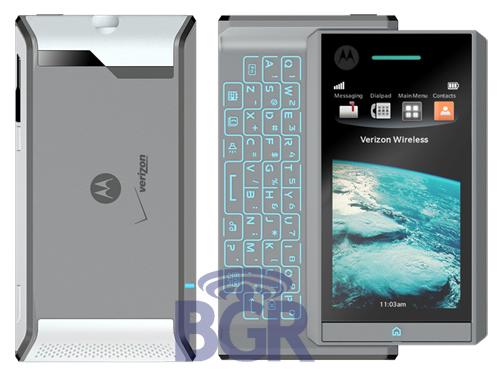 Motorola Calgary has a RAZR-like QWERTY
Another Moto said to run on Android is the
Motorola IRONMAN
(this seems to be a codename) which is a slider with a full keyboard and nice features, according to BGR. The funny thing is that the sketch shows it with a Windows Mobile interface, instead of Android, so we are not sure if it is real and what OS it will run on.
In other Motorola news, the company has scrapped two handsets; the sleek looking Flash and the Inferno flip phone will not go into production. On the other hand, the company is supposed to be working on a high-end model called Rolex (its display is pictured below) with the same form factor as the Aura and made entirely from hardened glass. No word on whether this will have a limited run like the Aura or if the Rolex will be for mass consumption.
source:
BGR
,
more