Motorola Barrage V860 out-of-stock, and with an earpiece problem?
7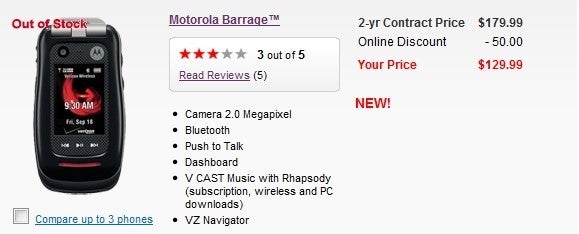 Last week
Verizon launched
its newest PTT device, the
Motorola Barrage V860
. It features Military Specs and is meant to compete with the Casio
Boulder
and upcoming Casio
Rock
. During our few days of testing (we have 2 Barrage units) we noticed how low in volume the earpiece sounded during calls, even though it was turned up to the highest level. Pressing on the area surround the earpiece seemed to make it louder, but conversely made it sound distorted. It appears we are not alone in seeing (or hearing) this problem, as there are a few user reviews on
Verizon's site
and on
HowardForums
that report the same issue. Now on the main
Verizon Wireless site
the Barrage is showing as out-of-stock. Does this mean it is truly sold-out, or has it been pulled due to the earpiece problem? We will update you once we get more information about this.
Also be sure to check back for our full upcoming review of the Motorola Barrage V860.