Motorola ATRIX 2 specs revealed, press shots indicate AT&T launch
13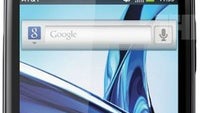 So far, information about the
Motorola ATRIX 2
, previously known as the Edison, has been anything but scarce, yet the guys at
This is my next
have managed to obtain quite a few pieces of the puzzle. First of all,
the smartphone is expected to be offered by AT&T
, just like previous rumors have suggested, and will indeed run on the carrier's 4G pipelines. A 4.3-inch qHD display will be gracing the device's front and an 8-megapixel camera with a single LED flash will be located on its back. In addition, 8 gigs of on-board storage will be at your disposal, and the smartphone's battery should provide as much as 8.5 hours of continuous talk time.
There is no word, however, whether there will be an LTE radio on board the Motorola ATRIX 2 or it will rely on AT&T's HSPA+ network. Nothing has been mentioned about the smartphone's processor either, but we wouldn't expect seeing anything less of a speedy, dual-core chipset ticking under its hood.
Following the footsteps of its predecessor,
the Motorola ATRIX 2 will come with Webtop support
via the Lapdock 100. The accessory will be a bit different from the one used for the original ATRIX 4G as it will come with a smaller, 10.1-inch display and will connect to the smartphone by using a cable instead of the traditional "snap-in" method. Presumably, the change has been done so that future Motorola models could be compatible with the Lapdock as well.
Pricing and availability of the Motorola ATRIX 2 remain anybody's guess for now, but if
last week's rumors
are really on to something, the handset might hit the shelves just in time for Thanksgiving.