Motorola ATRIX 2 Hands-on
22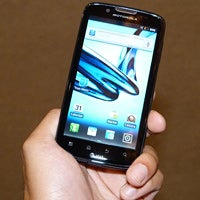 Earlier in the year, AT&T had the prestigious opportunity of taking grasp of what was deemed as "the world's most powerful smartphone" at the time. However, in our constantly changing technological world, that title was short lived as other handsets quickly took prominence – though, it was also an innovative device with its vast
Motorola Webtop
functionality. Nearly 8 months after it was released, we're now just getting our first look at its successor in the aptly named Motorola ATRIX 2.
Being a successive device and all, we find some incremental improvements that make it a true high-end competitor in the market, but interestingly enough, it's going to be sporting an out of this world on-contract pricing of only $99.99 when it's released. First up to the plate, its display moves up in size to 4.3 inches, while maintaining the same high resolution of qHD (540 x 960). Not only is it detailed, but we're enthralled by its luscious looking deep and vibrant color production – and it helps that it's able to captivate our eyes from a good distance. Add in its high-contrast and wide viewing angles, it's indeed a standout from afar and makes the 4" display of its predecessor quaint.
As a whole, we definitely like its overall build and design, which of course, moves up in size just a teeny tiny bit to accommodate its larger display. Retaining the same plastic shell as its predecessor, it enables the handset to keep its weight considerably down – especially when it looks and feels a bit on the larger side. Complementing its tough plastic exterior, it employs some rubbery surfaces that provide a good grip when holding the handset. Sadly, Motorola strips the fingerprint reader found with the original in favor for a traditional dedicated power button that has no other functionality aside from powering it on.
Another upgrade found with the handset is the 8-megapixel auto-focus camera with LED flash it's sporting in the rear, which is able to shoot 1080p videos. Under the hood, it no longer is being powered by a dual-core NVIDIA Tegra 2 processor, but rather, it sides with a 1GHz dual-core TI OMAP processor. With the switch, we're accepting of the fluid and responsive execution it's exhibiting with the same customized MOTOBLUR-esque interface that's featured on other handsets.
From what we're told, this Motorola Webtop enabled smartphone is compatible with the same accessories used by the Motorola DROID BIONIC – so there's no need to buy a new one if you happen to use the laptop dock with the BIONIC. Supplementing its incremental improvements, it's said to offer the best battery life for any Android smartphone for AT&T and speedier Category 14 HSPA+ connectivity that's able to get up to theoretical speeds of 21Mbits/s.
Honestly, it's rather difficult to not like this one already, but it's even more satisfying in the pockets since it's only given a 2-year contract price of $99.99. Being a contemporary high-end smartphone and all, it's shaping up become one value rich smartphone that doesn't skimp out on the performance.


Motorola ATRIX 2 Hands-on:
Motorola ATRIX 2 Demonstration: