Moto X costs carriers just $350, so the price could drop fast
54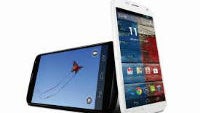 Leo Laporte said on
This Week in Google
that when the Moto X hits the Google Play Store it
will not be a Google Edition device
, and will contain all of the Motorola extras. Well, Leo wasn't done with the info, because he has also given some info on what the carriers are paying for the Motorola Moto X, and he gives some guesses about how the pricing will work through carriers.
According to Leo, the
carriers are paying just $350 per device on the Moto X
, which is less than carriers would usually pay on a device that has a
full retail
price of around $575 (according to leaks). This not only means that carriers are making extra profit on each device, but it does mean that if the launch price of $199 doesn't go over well, the price could drop fairly quickly.
We still think the Moto X is worth the $199 on-contract price tag, but with more flagship devices on the way, this could give the Moto X an advantage going into the holiday season, especially if the
Moto Maker options will be expanding
to other carriers in early November.
Of course, despite what many of you may think,
there is still almost no chance that the Google Play Store will undercut the unlocked pricing by carriers
when the Moto X is sold through Google. Google/Motorola still need to retain a good relationship with carriers, so we would expect the Google Play pricing to be similar to the $575 off-contract that has been rumored for carriers.