Moto 360 standalone metal and leather bands finally available, but they will cost you
25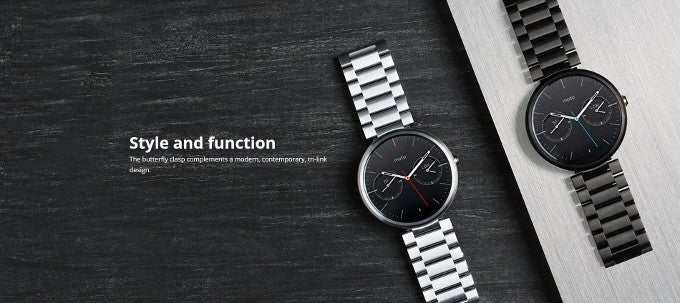 If you're one of the still few smartwatch appreciators, you, too, were probably disappointed to see that the classy-looking metal band of the Moto 360, with which Motorola marketed the wearable at least in the beginning, was unavailable for purchase initially. Thankfully, this is (finally!) no longer the case, and Motorola has made two new, standalone bands available for purchase: a leather and a stainless steel one.
The two new bands are available in several colors – you've got a choice between a black, brown, or gray Horween-made leather and black/silver for the metal band. Both types, regardless of color, cost the same, but the number likely won't be easy to swallow for everybody – prepare to part with $29.99 for the leather option or the whopping $79.99 for the metal one. Yikes! At least you get a butterfly clasp with the latter, which we tend to prefer.
Unfortunately, the process of changing your current band apparently isn't
that
easy, for Motorola is advising customers to take the watch to their nearest jeweler for assistance. Obviously, you can still do it yourself and save a few bucks in the process.