Moto 360 is official, available today for $249
21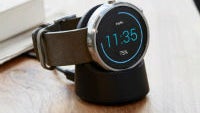 After an incredibly long wait, long enough to see Motorola's position as the only manufacturer with a round Android Wear device falter, the Moto 360 is finally official. The device will be available for purchase later today, September 5th, and will cost $249. Surprisingly, in terms of the feature set, almost everything is exactly what we expected.
We were skeptical, but it seems that the
Best Buy
posting had the specs right on for the Moto 360, meaning a 1.56-inch display with a 320x290 resolution, 512MB of RAM, 4GB of storage, a pedometer, a heart rate meter, and wireless charging. It also features Gorilla Glass and IP67 water resistance similar to the LG G Watch. Possibly the most surprising is that Best Buy even had the processor correct. The Moto 360 is powered by a TI OMAP 3, which makes it seem as though Motorola simply tore apart some old MOTOACTV watches to build the 360.
Although the specs are what was rumored, that's not to say that the Moto 360 doesn't set itself apart from the rest of the Android Wear devices currently on the market. It is currently the only round Android Wear device on the market, though that will change soon with the LG G Watch R. It uses wireless charging, which is slightly different than the pogo pin charging of the LG G Watch, but maybe not substantially so. And, it has added software around its heart rate monitor. This means you'll get a Heart Rate card to show your current heart rate, plus a summary of the day; and, a Heart Activity card which helps you track if you've met your 30 minutes of aerobic activity for the day, and how you're doing on a 5 day chart.
The Moto 360 will be available in black leather and a limited edition gray leather with suede finish in the US today starting at noon EST for $249.99 from Motorola, Google Play, and through Best Buy. Additionally, Moto 360 will be available in two metal options later this fall for $299.99. For those who buy a Moto 360 today, there will be an option to purchase a metal band this fall for $79.99. Leather bands will also be available independently for $29.99 at that time.
source: Motorola