Mother of alleged Apple iPhone thief praises victim for capturing and restraining her son
56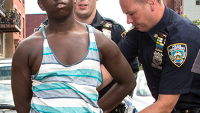 Last Friday, 36 year-old Clara Vondrich was in the middle of a business call outside a coffee shop in Brooklyn, when a pair of young kids pushed her from behind, knocking her to the ground. One of the pair then ripped her Apple iPhone right out of her hands. Like many victims who have had their pride and joy forcefully removed from their grip, Vondrich chased after the thieves despite wearing thick wedges and a sundress.
The kid who had possession of the phone, handed it off to his pal as though they were returning a kickoff in the waning seconds of an NFL contest. Out of shape, and feeling the effects of the run, the pudgier of the two thieves found himself caught by Vondrich, who put a bear hug on the kid. Of course, with this taking place in New York City, photographers happened to be at the ready to shoot snapshots of the moment when the victim had captured her alleged assailant, waiting for the cops to arrive. When New York's finest showed up at the scene two minutes later, the 13-year old was busted for grand larceny.
As usual, the mother of the 13 year old went nuts when she saw the picture of her son being restrained by his victim, and added that her son is a "
very good boy
" who was led astray by the type of company that he keeps. However, a day later, the mother was singing another tune, praising Vondrich for her actions. "
If it was my phone, I would have chased his ass, too!
," she exclaimed. She did contradict herself a bit later by adding, "
If I was in good shape, I would have chased him. But in the shape I'm in, I'm not gonna chase nobody for no damn phone
."
What would you do if you were shoved to the ground and had your phone forcefully taken? Most law enforcement officials would tell you to let the thieves take the phone, that a smartphone isn't worth risking your life for. And looking at it logically, they are right. But many of us are just not logical when it comes to our phones.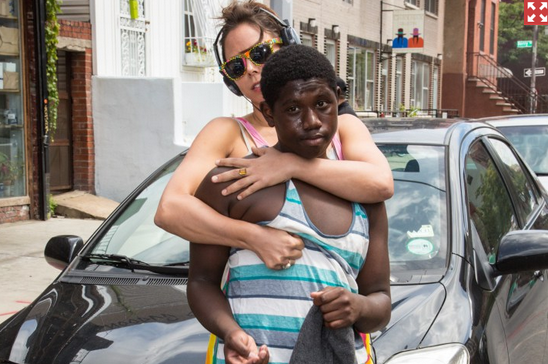 Not a recreation, this picture shows the moment when 36 year old Clara Vondrich restrained one of the two youths who had allegedly pushed her to the ground and stole her Apple iPhone
source: NYPost (
1
), (
2
)