More slow-motion action as Samsung Galaxy Gear gets put to the ultimate test
5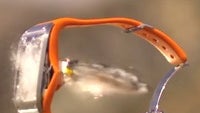 The tech assassin, Richard Ryan, is at it again, this time aligning his sights on Samsung's smartwatch, Galaxy Gear. True to form, Ryan puts his gadgets through the battery of standard tests by dropping Galaxy Gear in water, dirt and concrete.
The smartwatch handles those tests with aplomb. If you have ever held a Galaxy Gear watch, you may have found the wrist strap to at least feel stiff. The slow motion action shows some neat angles as the strap reacts to the impact of hitting the ground.
As always with Ryan, these gadgets must meet their end, preferably by being pierced with a high-velocity round shot by some intriguing weapon. In Gear's case, the rifle that Ryan chose to take care of business is the HK 417, which fires the ever-effective 7.62mm round and is finding real world use right now through various military entities around the world.
It takes only one shot to give us the show of Gear meeting its demise in slo-mo. Ryan noted in another video that he is starting to mess around with camera gear that can capture video in excess of 1 million frames-per-second. It won't be long before we can see every nitty-gritty detail of the tech-assassin at work.
source:
RatedRR
(YouTube)