More pictures of the Nokia Lumia 929 leak from Mexico
28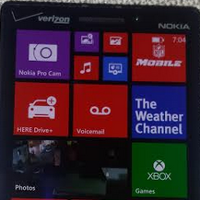 On Tuesday, we were
happy to obtain exclusive pictures
of the
Nokia Lumia 929
from a source in Mexico who was able to purchase what he called a prototype of the phone. Keep in mind that Nokia has yet to make this model official, although it is expected to be an exclusive for Verizon when launched in the U.S. And as we've pointed out, while the
Nokia Lumia 1520
phablet is the first Windows Phone model to come to market with the GDR3 update, the 6 inch screen could limit the popularity of the device.
Since the Nokia Lumia 929 will also have the GDR3 update, which will allow it to offer the same top-shelf specs seen on high-end Android phones, and carry a more desirable 5 inch display, this model will provide us with a quick reading on how much progress the platform is making against the iOS/Android duopoly. And being offered on Verizon, a carrier known for its Android line-up, it will be very interesting to see how the Nokia Lumia 929 fares. First though, it needs to be unveiled.
The latest information we have on a possible launch date is
mid to late December
, so just a little more patience is required.
Thanks, Anonymous Tipster!