More images of the WP7 Nokia Sea Ray surface, Nokia outsourcing production to speed things up
28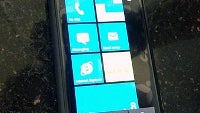 Another image emerged of the WP7-running
Nokia N9
lookalike, dubbed Sea Ray, after it
leaked semi-officially yesterday
. All indicators point to this one being in the first batch of Nokia Windows Phone devices that are to come this year.
Since the N9 shell is buttonless in the front, a developer pointed out that in such cases they sometimes emulate the back, search and home keys on the screen, and what looks like a Photoshopped area on the picture, might actually be sticky paper to imitate
capacitive buttons
, that's why it doesn't reflect light as the rest of the screen. We learn something new everyday, and we are always ones that appreciate a stopgap low-tech solution when we see it.
Or, if you want to see a pretty render if the Nokia Sea Ray, there is that too - an enthusiast work, this mock render below on the right imagines how the Sea Ray might look like in promo pictures. The guys from used the Nokia N9 official pics, and reshuffled the buttons according to what we saw in the leak yesterday.
The production of the Nokia N9-esque handset with Windows Phone 7 is allegedly been outsourced to the juggernaut ODM Compal, which will also make the handsets of the
most recent WP7 licensees - Acer, ZTE and Fujitsu
.
Not that Nokia doesn't have plenty of manufacturing facilities, but until now these have been mostly churning Symbian handsets with the respective chipsets, whereas Compal has experience with the Qualcomm silicon that Microsoft demands to be used in its Windows Phone devices. Judging from this desire to speed production up, and the recent deluge of leaks, Nokia apparently wants to leave the impression it is to out a Nokia Windows Phone as soon as possible, and still make it different enough to stick.
source:
WPCentral
,
SlashGear
&
DownrightWireless