More Voyager info is revealed
17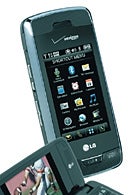 LG Voyager
datasheet.This reveals some specifications about the device that was currently unknown.
The external display is a Touch-Screen (which we already knew), butwe now are sure that the size of both internal and external displays willbe 2.81" 400x240 pixels (WQVGA) and support up to 262K colors.Both can be used with the HTML Browser, Mobile TV, and VZ Navigator.
The Voyager and enV are the same height, but the Voyager will be slightly wider and not as thick.The Retail Package will include the Voyager, 950mAh Battery, Wall charger, USB Data Cable, and VCast Music Manager CD.When using the data cable, the PC will see the phone as a MassStorage device, which allows you to transfer files directly to and fromthe MicroSD card (8GB supported).
Other features include MP3 Playback, Stereo Speakers, QWERTYKeypad, 2.0MP AutoFocus Camera, Speakerphone, Bluetooth, and 3G EVDOdata connection.
The Voyager will be available to PreOrder from Verizon Wireless beginning on Nov 8th and will launch on the 21st.Pricing is $299 after a $50 Rebate with a 2-Year Contract.