Modular smartphones now a two-horse race? Xiaomi may also be working on a Phonebloks-like project
11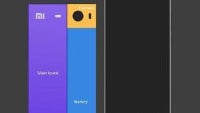 There are very few things currently going on in the wireless industry that offer as great a value proposition as the one brought up by Motorola's Project Ara and the modular smartphones it aims to make available to the wider world. Of course, if we take a chronological approach to the events leading up to Project Ara, we'd pretty much have to mention Phonebloks – a YouTube video about LEGO-like customizable smartphones that went viral almost immediately, setting the stage for the new movement.
Ambitious Beijing-based Xiaomi appears to have caught a whiff of the new trend all the way in the Middle Kingdom, and may be moving in with their own project, called Magic Cube, or so would a duo of modular smartphone renders lead us to believe. More importantly, these were actually posted on the official Weibo (Chinese Twitter equivalent) profile of Xiaomi's founder and CEO – Lei Jun, but were quickly taken down soon after. As far as we can tell from the snaps, the underlying idea appears to be identical to that of Motorola and the folks behind Phonebloks. That being said, one could argue that Xiaomi's renders show a more limited choice of modular components, though it's more than likely awfully early to be making such calls.
In case you're unfamiliar with what modular smartphones are all about, then you should definitely make sure to take a moment and have a look right below.
More on modular smartphones: