Motorola now has a hardware partner for its Project Ara's modular phones
11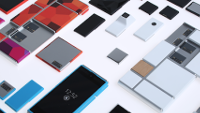 Remember Phonebloks
? It's a simple enough concept, yet practical constraints are plenty, to say the least. And while we were busy getting our geek on at the prospects it introduces, Motorola wasn't sleeping and actually approached the folks behind Phonebloks with an offer for them to serve as an ambassador/evangelists of the idea. More importantly perhaps, soon after, it became apparent that
the US manufacture had been working on a similar idea
for at least two years.
Of course, due to the nature of such a massive undertaking, it feels like everyone is a fair bit skeptical, and for a good reason. Motorola, however, means business, as it has inked a deal with 3D Systems that will make the latter its exclusive hardware partner for the project.
"
With Project Ara, we asked the question, 'How do we bring the benefits of customization and an open hardware ecosystem to 6 billion people?' That is our driving application. It requires technical advances in areas such as material strength and printing with conductive inks for antennas. And those advances must support production-level speeds and volumes, which is a natural partnership with 3D Systems
," commented Regina Dugan, Senior Vice President and Motorola's Advanced Technology & Projects head.
The new agreement will have 3D Systems "substantially expand" its multi-material capabilities, in order to facilitate the needs of the project by creating a "factory of the future". This is still very much in the development phase, and seeing as we're still talking about spanking new type of tech, it's not out of the question that things may not exactly work out.
Be that as it may, for the time being we're quite impressed with Motorola and are enthusiastically rooting for the success of the project.
source:
GlobeNewswire
via
Engadget