Motorola CEO talks about Project Ara (aka Phonebloks) and the future of Moto Maker
10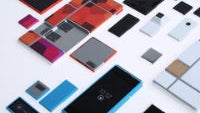 Phonebloks
was one of the more interesting ideas to have come through the web in quite a while. The basic idea is this: why should you have to buy an entirely new phone in order to upgrade, or if something breaks on your current device? You don't need to do that with a desktop computer, or a car. Phonebloks turned out to be a campaign by Motorola for its
Project Ara
(which makes us think that this is what
Guy Kawasaki
was hinting at rather than Moto Maker.)
Motorola CEO Dennis Woodside just finished up a Google+ Hangouts interview with Marques Brownlee where he
talked about the Moto X
as well as Project Ara. Woodside said that Phoneblox does have a prototype that is "pretty close", but the problem is the interface to allow the various components to directly speak to the motherboard. Right now, there are no standards to allow the speaker, camera etc. to talk directly to the motherboard yet. But, this is an issue that Motorola wants to fix. In very Google-like fashion, Motorola wants to create the open standard rather than building proprietary solutions.
Woodside is especially excited about Phonebloks because of the potential for component makers. Right now, there are "a bunch of companies involved" for component production, but "it's hard right now" for them because they are limited in who they can work with. Component makers have to sell to hardware partners, but Phonebloks would allow those component makers more options to sell directly to consumers.
Woodside also hinted that when the product is ready, which will be a while, the plan is to offer it through Moto Maker. In the meantime, Moto Maker will be expanded with new materials offered. He made it sound like it won't stop with the wood backs, but didn't give specifics, though he did say that the wooden options were coming "very soon". While Project Ara is in development, users can even sign up with the project's DScout page to get information, and even be called on for
missions.