Mobile OS comparison: you picked the best platform (poll results)
99+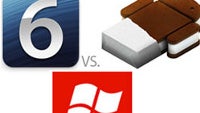 Last week, Microsoft had big news for us - it unveiled the first major redefinition of its Windows Phone platform, bumping up the version number up from 7 to
Windows Phone 8
. The update came with plenty of new features both on the user interface side of things with a brand new start panel, but also on the core side of the platform itself which now runs on the same kernel Windows 8 runs on, the Windows NT core.
Overall, it brought better customization by allowing small icons tiles, getting rid of the unnecessary black strip on the side and filling your whole screen with those modernistic colorful tiles. The new version of Windows Phone also makes it easier for developers to port their Android and iOS applications, and of course apps running on Windows Phone 7 should run with no tweaking on WP8.
All of this and others like the addition of offline maps and navigation by Nokia, makes Windows Phone a truly mature platform. "The smartphone beta test" - as Nokia put it earlier - seems to be over only now. But how did the platform fare against the market leaders, Android 4.0 and iOS 6.0?
Both have centralized notifications, Android has great real-time multitasking while iOS has a somewhat limited app management system like WP. All three now allow for multi-core chips and high-res screens. Is a tie?
You voted for the best mobile operating system
and that title goes to
... Android 4.0 Ice Cream Sandwich. Nearly, 49% of you picked Google's operating system as the most advanced OS there is and we're not surprised given it's the world's most popular, runs on a huge variety of form factors and offers a huge number of features and customization options.
Interestingly,
Windows Phone 8 was a close runner-up
. It took the second place and 41% of your votes, all without an actual product, and that's something that impresses.
Last came iOS
with a mere 10.5% of your votes. Apple's platform lacks the customization options and the true multitasking, but it's the marriage of software and hardware that Apple takes pride in. The users however don't seem very impressed, even after the latest version of iOS, 6.0, was unveiled at WWDC.
So, there you have them - Android followed by WP8 and finally iOS 6.0. With those results now clear, are we already in for that three-horse race some Microsoft/Nokia folks talked about last year? Let us know what you think below.