Milunovich: Low-cost Apple iPhone M to outsell full-priced Apple iPhone 5S
23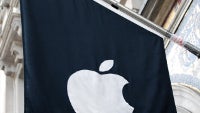 UBS analyst Steve Milunovich told his clients that the low-cost Apple iPhone, which he calls the
iPhone M
and we call the
Apple iPhone 5C
, will immediately outsell the full-priced
Apple iPhone 5S
. And while Milunovich expects the cheaper version of Apple's iconic smartphone to come out of the gate selling like hotcakes, it could still result in a huge drop in Apple's overall iPhone business.
Because the low-cost iPhone won't be launched until September, the analyst expects it to make up just 3% of Apple iPhone sales this year. But 2014 is a completely different matter. According to Milunovich, the iPhone M's first full year will result in 92 million units sold, or 53% of Apple's
total iPhone sales
next year. That would mean that the low-cost model would outsell the Apple iPhone 5S in 2014. And this is actually bad news for Apple and its stockholders.
"In our model, the iPhone M is dilutive not only to gross margin but to gross profit dollars. The impact of the M depends on assumptions. We estimate the 4/4S, which the M would replace, currently have a gross margin of 55% because of the low cost of older components. We also assume the gross margin of the M will be near 32%. And we estimate shipment of 92mn iPhone M units in F14. Because the M has such a lower gross margin than the 4/4S, the M reduces earnings in our model. iPhone gross profit declines by 4% or $1.6bn with the iPhone 5/5S profit up $4.9bn and the 4/4S/M profit down $6.5bn. The net iPhone impact is a reduction to F14E EPS of $1.16. In this case, Apple would be looking to add new users to its ecosystem at the expense of short-term profit, which CFO Peter Oppenheimer said the company occasionally does. To show how sensitive the profit impact is to assumptions, if Apple sells 99mn instead of our 92mn M units, the gross profit impact would be neutral. Similarly, different gross margin assumptions will vary the result."
-Steve Milunovich, UBS
With a lower profit margin than the phones that it would be replacing, the
Apple iPhone 4
and the
Apple iPhone 4S
, introducing the low-priced Apple iPhone could actually be detrimental to Apple's 2014 earnings. He expects total iPhone earnings to be reduced by 1.4% next year or a drop of $1.6 billion in earnings. According to the analyst, Apple would be gaining market share at expense of its bottom line.
Despite cutting his 2014 earnings figure for Apple, Milunovich reiterated his
"Buy" rating
on the stock with a target of $500.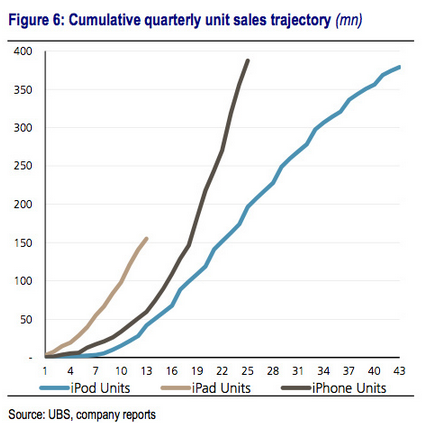 UBS' analysis of Apple's mobile devices
source:
Barron's
via
BGR