Microsoft to start by building around 3 million Surface tablets
13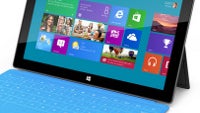 Microsoft's first production run for its Surface tablets will have around 3 million units - that's how many tablets it plans to build and expectations are that it'd sell a few million in calendar 2012, according to estimates by researchers from IDC.
"Probably a little over 3 million, both [Intel] x86 and ARM,"
IDC analyst Bob O'Donnell predicted Microsoft Surface production in an interview for CNET.
Having that many Surface tablets means that Microsoft will definitely sell the devices on big box retailers and not just through its own stores, according to the analyst.
Now, the most interesting part about the Surface tablet is the rumored very aggressive pricing, with Windows 8 RT ARM-based tablets said to start at $199. This could turn out to be true, but with a catch - you'd need to pay for services. So if you take a price point of around $599 (that's what we've previously heard), and start working towards that price from $199, with the added services, Microsoft might end up getting even more value out of the tablet, just not initially.
It's not clear what would that mysterious subscription be given that the first generation of Surface tablets is expected to work on Wi-Fi only and have no ties to carriers, but we're curious to see. Still, IDC has serious doubts that Microsoft would ever launch a $199 tablet, and we'd also join in their healthy skepticism.
What do you think about the Microsoft Surface? Will it challenge the iPad and will it change something in the tablet space?
source:
CNET
Recommended Stories