Microsoft signs partnership with Cyanogen, bundled apps and services on their way
80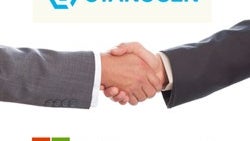 Microsoft, a company that seems to be making a push to bundle its apps in services on Android devices, announced today a partnership with Cyanogen, the company behind the popular CyanogenMod. Upcoming versions of Cyanogen's software will come bundled with a range of Microsoft apps such as Skype, OneDrive, OneNote, Outlook, Bing and Office Mobile. Furthermore, Cyanogen also says that some of Microsoft's apps and services will come with native integration in Cyanogen's custom Android MOD.
The recent Cyanogen - Microsoft partnership is quite interesting given the fact that rumors previously suggested that Microsoft was interested in
buying a stake in custom ROM maker
. Although the
rumor turned out to be false
, it looks like the notion of a brewing relationship between the two companies was accurate.
The partnership with Cyanogen is just the latest in a series of steps that Microsoft is taking hoping to increase its footprint on Android devices. Microsoft imposes a certain fee to Android manufacturers for licensing various technologies required by the Android OS, as more than 200 of Microsoft's patents are necessary to build an Android smartphone. A recent report argued that the Redmond-based tech giant signed
partnerships with 11 different device makers
, lowering the licencing fees in exchange of getting some of its apps pre-loaded on smartphones and tablets. Two of these manufacturers are Samsung and Dell. Microsoft is also working on bringing
Windows 10 to Android smartphones
by developing a custom ROM that's currently being tested on the
Xiaomi Mi 4
.
Recommended Stories