Prepare to see a lot more Microsoft apps and services pre-installed on upcoming Android smartphones
46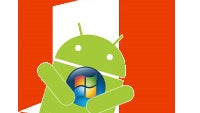 So,
when we first heard
about the apps that will be baked into the
Galaxy S6
and
Galaxy S6 edge
at launch, many were baffled as to why Samsung would have Microsoft's OneDrive, OneNote, and Skype installed on its flagships from the box. A month later, those rumors were confirmed and we now know for a fact that
Sammy plans
to have Word, Excel, PowerPoint, OneNote, OneDrive, and Skype on upcoming 2015 tablets, and we wouldn't be surprised to see at least some of said apps baked into this year's iteration of the Galaxy Note line.
Those who have been following the
Microsoft and Samsung drama
over missed patent payments may have deduced that the sudden agreement both companies reached may have something to do with a deal to have Microsoft services pre-installed on Galaxy devices. And, apparently, such speculations are not far from the truth.
Hardware supply chain leaksters have reported that the Windows creator is offering discounts on patent royalties to any Android manufacturers who bake Redmond's apps onto their devices. "But isn't Android a Google thing?" you may ask. Yes, the operating system is, however, some of its functions (such as faster loading of web pages or the FAT file system, which allows it to communicate with the phone's SD card, among many others) were first invented and, naturally – patented, by Microsoft. So, anyone who wishes to get into the phone building game (and use Android) will owe a
small piece of their pie
to Redmond. Of course, if the latter proposes a drop in their fees to anyone who pre-installs Skype, OneNote, OneDrive, Word, etc. on their phones, there are very few ODMs that would not find themselves inclined to accept the offer.
According to the report, Microsoft has made such a deal with 11 different device makers, two of which are Samsung and Dell. We can't be sure who the other 9 are at this moment, though, we're pretty sure we'll be getting used to seeing Microsoft apps and services pre-installed on Android handsets this year.