Microsoft sends out friendly reminder of upcoming WM6.x burial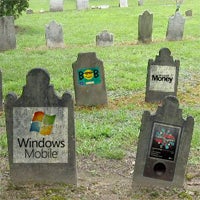 Microsoft has now sent out a friendly reminder of the upcoming demise of the WM6.x Marketplace. Interestingly, the new notice states that the
discontinuation date has changed to May 17, 2012
, so you have a little extra time to get what you need and make your backups.
As we mentioned before, all apps and games will continue to work after that date, but will no longer be able to be downloaded. If your device needs to be reset after May 17th, you will no longer be able to obtain these apps from the Marketplace, so be sure to keep a backup of anything you consider critical if you plan on continuing to use a Windows Mobile device.
Also, since sometimes '
mobile
' and '
phone
' can get confused due to Microsoft's branding. Windows
Phone
and its Windows
Phone
Marketplace are a completely separate entity from Windows
Mobile
and its Windows Marketplace for
Mobile
. This discontinuation only applies to older devices running on the Windows Mobile platform.