Microsoft sends Lumia astronauts to take off from Heathrow's Terminal Galaxy S5
12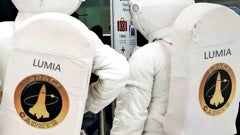 Earlier this month, Samsung took over Heathrow Airport's Terminal 5, renaming it "
Terminal Galaxy S5
", and placing ads all over the place. Naturally, Samsung's rivals aren't too happy about this display of marketing power. And Microsoft is actually doing something about it.
The Windows maker sent four "Lumianauts" to Terminal 5, as it had heard "that you can now reach the Galaxy" from there. However, upon reaching the terminal, the Lumianauts "learned that there was no such thing as a flight to the Galaxy. Rather, the terminal had been taken over by advertising for another mobile phone company." Bummer.
Although the Lumianauts didn't make it to the Galaxy, Microsoft lets us know that "we can all console ourselves with the knowledge that the Lumia we have in our pockets is always out of this world."
We've no idea if this campaign (if it can be called like that) can have a positive effect on Lumia sales. However, it's worth trying. And, of course, when you have Microsoft's marketing budget, you can try pretty much anything.
source:
Nokia Conversations