Microsoft says 23% of switchers come from Android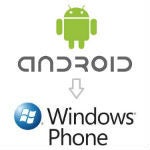 During the first day of Microsoft's Build developer conference today, the company laid out some interesting statistics about what users are moving over to Windows Phone. While the platform is growing at a respectable clip, it hasn't reached a level where Microsoft can boast about user numbers that much, but it can definitely mention when users are switching from Android.
Another big chunk of new Windows Phone users (23%) are those who are switching from Android, although Microsoft took a bit of a jab by using the term "upgrading" when talking about those coming from Android. Last year, we put together a 4-part guide for those thinking about
switching from Android to Windows Phone
, and we're hoping to update that soon, if you're a dissatisfied Android user looking for a change. And, of course Microsoft has made
an app to help you find the apps
you want on WP.