Microsoft planning to unify all versions of Windows
47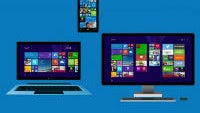 We've been hearing various rumors about the next major version of Windows, codenamed Threshold, and the prevailing idea has been that Windows Phone and RT would merge. But, Microsoft CEO Satya Nadella said those plans are more ambitious than we thought, and that Microsoft is working to unify all versions of Windows into one single OS.
During the
Microsoft earnings
call from earlier today, Nadella laid out the general plans, saying:
We will streamline the next version of Windows from three operating systems into one single converged operating system for screens of all sizes. We will unify our stores, commerce, and developer platforms to drive a more coherent user experience and a broader developer opportunity.
Nadella didn't give a lot of details, but did say that the engineering team has been unified within Microsoft, so there is now one team building one version of Windows that will be for phones, tablets, PCs, embedded, and even Xbox. He said that the UI will scale across all screen sizes, and he also mentioned the
universal app development
that has already been released.
Basically, it sounds like Microsoft is planning to converge Windows the same way that Canonical has been working towards with Ubuntu. There will be one OS code base that changes based on the screen size - phone, tablet, PC, and TV - and universal apps that will also adapt to each different screen. Combining this idea with other
recent rumors
, it sounds like the Windows Phone and tablet UI will stick with the Metro look, while PCs will go with the traditional desktop. We'll surely find out more before the rumored announcement in April 2015.